I was born in France in July 1966, and still was a baby when the family moved to Madagascar in 1967, my father having an engineering contract for road and bridge construction. There I spent a wonderful time, and got struck very early by the aviation virus when my father took me to his flying lessons at the Antananarivo Ivato International airport.
We often used to travel by air inside the country and I was fascinated by the noisy, greasy and shaky Air Madagascar DC-3 and DC-4, operating on the domestic network along with brand new DHC-6 Twin Otters.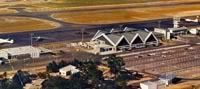 Antananarivo Ivato circa 1970
In 1972, we left the country after the troubles of a communist insurrection. The family moved to France for a short while, then a new life started in Algeria, where I eventually spent the rest of my childhood. There, at the age of eleven, I started to get involved in what is my main hobby today: building airplane models, first with the Heller 1/72 Spitfire Mk.Vb which never reached the painting process. In addition to grabbing every paper more or less related to aviation, I could spend entire days reading the Airfix or Italaerei catalog.
| | | | |
| --- | --- | --- | --- |
| | | | |
| The home at Skikda (1974) just in front of the beach. | Algiers in 1985 | Awaiting departure to Algiers (Djanet, 1984) | Near Tamanrasset (1983) |
My parents entering my subscription to a local airclub, I took my first flying lesson at the age of 16, first soloed at 17, and had my flying license at 18… one year before having my driving license. In the meantime, my parents and my brother happened to come in more african countries, such as Mali, Rwanda, Niger, and Cameroon. I had the pleasure to know some of them as well during holidays.
| | | | |
| --- | --- | --- | --- |
| | | | |
| Islander taking off somewhere in Mali (1980) | The young pilots tour (France, 1986) | #57: my funny Grumman AA-1B | At the Kigali airclub (1987) |
| | | | |
| Air Rwanda Twin Otter | Baby gorilla in the mist | Zairean landscape near lake Kivu. | Rwindi, Zaire (1987) |
After succeeding at the french Baccalaureat, I started a professional course, had a multiengine instrument rating, and an instructor rating which I used to perform my military duties as a civilian contractor in Reunion Island. There I had great time flying around the area, including Madagascar, my childhood country.
Back to France, I got hired for my first airline job, as a Beech Super King Air and Gulfstream 1 First Officer. The Air Provence company was carrying out a large variety of operations, such as VIP flights, Freighter, Medevac, or scheduled operations for other airlines, all over Europe, North Africa, and Middle East. I greatly enjoyed this period and especially loved the Gulfstream, a 1959 turboprop aircraft formerly designed by Grumman "Iron Works" for the US Navy brass, which started the famous business jets serie. A very heavy airplane at the controls, but steady, fast and reliable. It is such a great pity that no manufacturer has produced any kit of this magnificent aircraft so far.
The magnificent Gulfstream I
But the company went into bankruptcy in 1992 and I went overseas back again,

first to French Guyana for about 6 month ( I started to fly the mighty Twin Otter of my childhood), then to Tahiti where I am still living today.
| | | |
| --- | --- | --- |
| | | |
| Bush flying in French Guyana (1992) | Dorlin goldmine airstrip (400m long) | Early morning flight to Moorea (1994) |
| | | |
| Tetiaroa, Society Islands | Arutua, Tuamotu | Makemo, Tuamotu |
| | | |
| On the ramp at Papeete: Turbine Commander 690A, one of my favourite planes to fly. | Loading a Cessna 404 | Makemo, Tuamotu |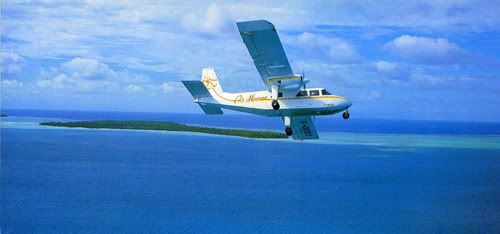 Islander
I left Tahiti several times for various contracts, including Gulfstream 1 Red Cross operations in Afghanistan; a Twin Otter Captain contract at the French Overseas Territory of Wallis & Futuna (South Pacific), and another one in Vanuatu where I spent two years flying Twin Otters and SAAB 2000 aircraft (my first glass cockpit).

At the beginning of my stay in Vanuatu, I decided to get back again to my former hobby: Scale aircraft modeling, from which I had taken a long pause of 13 years.
| | | |
| --- | --- | --- |
| | | |
| Loading the G-1 at Bagram, Afghanistan (1996) | Twin otter on the ramp, Futuna | Wallis (1996) |
| | | |
| Wallis | Wallis | Quick turnaround, Lonorore, Pentecost, Vanuatu (1998) |
| | | |
| Redcliffe Airport (Vanuatu) | With some good fellow crewmen on the ramp at Port Vila, Vanuatu (1999) | SAAB 2000 finals at Funafuti (Tuvalu) |
Back in Tahiti in January 2000, I got hired as a Citation V and Dornier 328JET First Officer for the main pearl producer of the country.
Eventually, my dream of flying long haul operations turned out to reality: Since September 2004, I enjoy the duties of First Officer for Air Tahiti Nui on the Airbus A340-300 airliner. I also remain more involved than ever in scale modeling, since I purchased a Nikon coolpix digital camera, which allows me to share the hobby on the web, my favourite subjects being the golden age of aviation and the prolific postwar period for prototypes and experimental aircraft. However, modeling is not my only center of interest. Of course I have a true interest in aviation history, but also history in general, and litterature. I also have a great interest in the stories, technical and human aspects of the sixties and early seventies manned space programs. In addition, I love Cuban music, Italian movies, Turkish Kebab, and reading a good book all day in bed.