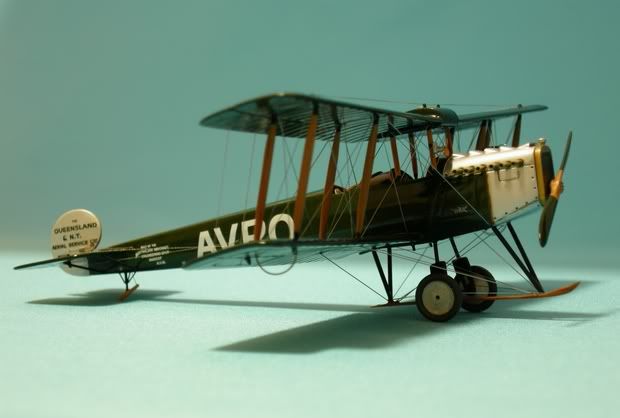 In 1920, two Australian citizens (Paul McGuiness and Hudson Wilmot Fysh) back from their duty during the Great War, began to operate an Australian built Avro 504K featuring significant changes from UK's standard production aircraft, of which a 100 hp Sunbeam Dyak inline engine in replacement to the standard rotary engine. The aerial services started as the "Queensland And Northern Territories Aerial Service Company Limited". Qantas was born..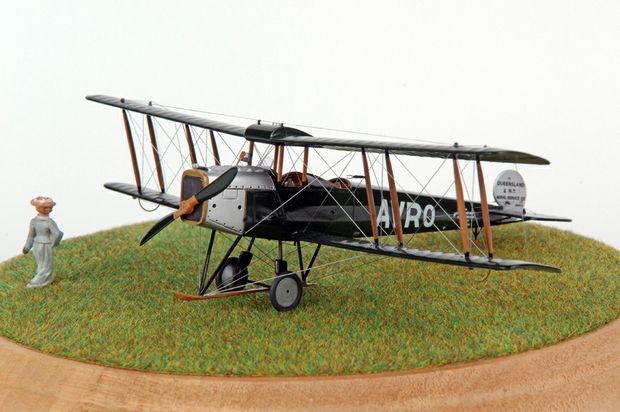 In the past, Airfix happened to box a limited amount of that very variant of its well known 1/72 504K kit. Certainly one of the hardest kit to find nowadays, and I'm not even sure that the inline engine section was provided with it.. Anyways I didn't try to get one..
However as I discovered that Hawkeye Models Australia had released a decal sheet for that subject, I couldn't help ordering it right away.. The sheet is available in 1/72 and 1/48, it is pretty well printed the ALPS way and has two marking options for that same aircraft as seen in August 1920 (which I elected to use) or in July 1921, also featuring a different cowling design. The instructions sheet provides some color profiles and pictures of the full scale replica displayed at the domestic terminal of Sydney Kingsford Smith International Airport. It also cites some publications as reference material, which are certainly good and useful documents, however I decided I could do with what is available on the web, of which lots of Sydney Airport replica pictures. As a result I am lacking knowledge of the full story and the model is rather based on a replica than on the real aircraft. No matter how accurate the replica is (and it looks very accurate to me), there are always some minor differences at least.
In addition I found a May 1975 issue of "Scale Models" magazine on ebay, which features a comprehensive article about the Airfix build with reference pictures and a 1/72 scale 3 view drawing of the standard 504K. The 3 view drawing by A.A.P. Lloyd is quite impressive for its level of detail and accuracy, and proved extremely useful. I also have to thank fellow modeler Christos G. Psarras for providing me with very helpful 504K pictures and documents.
And as I'm just setting the last hand to this article I discover that a Windsock publication (May/June 2000) features plans for the 504K Dyak... Too late for me to benefit anything from it, the conversion being carried out by pictures only. Nevertheless I assume it well worth a note for anyone interested in the same project.
Now all I had to do was to acquire the suitable kit to convert. The Airfix blister pack, and the Amodel kit I purchased them both. In fact, the Amodel kit seems a copy of the Airfix one (same ugly pilots, lack of fuselage depth) with some improvements (seats, ribbing detail, separated lower wings) and...worsenings...(thickers parts, atrocious stitching lines, warping, and other low pressure moulding flaws).
Airfix:
Amodel:
Construction: The fuselage was almost entirely scratchbuilt except the use of Amodel fuselage sides and seats. The remainder was built from sheet styrene and milliput. Following "Scale Models"'s article I built the turtle deck by embossing a piece of thin styrene. Wrongly located footrests were filled and rebuilt at correct locations.
Work began on wings (thinner Airfix wings) by puttying the ejection tower marks and upper strut braces locations as I planned mounting them individually, then interior was fully scratchbuilt with the exception of the seats from the Amodel kit.
I decided to scratchbuild the rudder as well in order to get a thinner part with better ribbing detail. The fuselage end where rudder is hinged was put in shape at the same occasion.
The upper wings needed work to build the special fuel tank of the Australian aircraft: an embedded tank with an airfoil section shape of greater capacity than the cylinder shaped standard one. Again using sheet styrene and milliput.
Stitching lines were sanded off to be replaced by Archer resin transfers. Archer produces nice stitching lines as resin transfers, but only in 1/32 or 1/48. However I used a double row rivet detail of their same range, which really look like stitching lines by naked eye.
The cockpit openings (note they are quite different than those of production 504Ks) were completed by adding soldering wire as leather cuffs. Although black (or dark grey?) on the Sydney replica, I later decided to paint them "leather" by pure speculation and personal taste.
After all that surgery, and because the kit's fuselage lack of depth was corrected, dry fitting tests revealed that the kit's struts were slightly too short, so I had to scratchbuild them. Note that the struts are supposed to have double tapered tips and that back row struts are of slightly narrower section than front row struts. From the spares box, Matchbox Henschel Hs 126 wing strut sections were used for the job.
They were then airbrushed a "wood" enamel, given a couple of "leather" passes with an almost dry brush, futured, and sanded smooth.
The wind driven generator was made from plastic bit and a small sprue piece of photo etched brass got given shape then twisted as blades.
After some dry fitting tests with the undercarriage, the model was "Insigna White" primed and "British Green" sprayed overall using Tamiya rattle cans.
A coat of Future was handbrushed before and after decals. / Before: not because I wanted a gloss surface as it was already the case with a gloss green, but to avoid pigments to melt with the decals white, thus limiting translucent effect of white decals over a rather dark color. / After: to seal decals and protect paint, mostly against fogging while supergluing parts.
The Hawkeye decals were of great quality and I had no problem at all setting them in place. They were cut as tight as I could, and by individual letter where possible.
The tail skid has quite a complex architecture on the Avro 504. No less than 7 parts were necessary to build it...
Hereafter are progress pictures of the radiator construction, using sheet styrene and a Fine Molds metal mesh.
Rigging was mostly done with stretched sprue which I painted silver. However I elected to use hairs from my devoted lady (which I also painted silver) in order to achieve part of the undercarriage rigging, and the part of aileron control running 90░ through pulleys accross the wingspan above the upper wing and below the lower wing.
The Airfix parts were selected for the airscrew and undercarriage, and a pitot probe was built using a section of styrene rod and metal wire. Note that it has a different location on the Sydney replica. Historical documents are showing a higher location on the same strut, which I did.

And here is the completed model...Cheers!