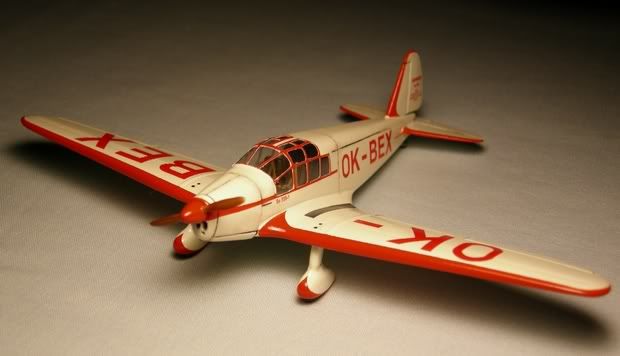 The Benes-Mraz Be-555-1 "Superbibi" is the 1938 final version of a sports twin seater developped in Czechoslovakia during the mid thirties. We have quite an obscure subject here as I wasn't able to find a single picture of this aircraft, other than the one on the Legato kit box. Not a bad way to avoid critiscism after all...
The resin kit is the average quality of what one may expect from the Czech industry, with rather good accuracy (when comparison is made to the only available photo), some areas showing a reasonable amount of bubbles, and slight warpage on a small amount of parts.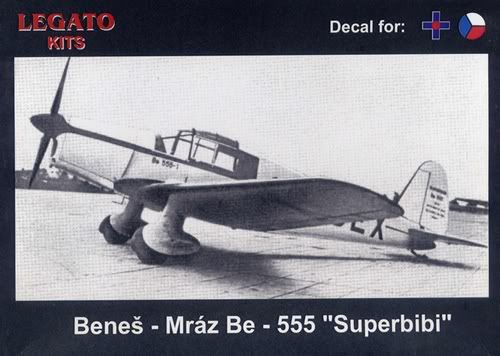 The main landing gear had to be significantly modified using milliput and contrail airfoil sections as that of an earlier version was the one provided. A single wheel from the spares box was then cut in two halves which were smoothly inserted in their respective spats using milliput.
To obtain a smooth transition to the aft fuselage when fitting the (only) vac canopy, a sheet styrene item was added with superglue and milliput. Engine cowling area also needed significant rework due to bubbles.
After the canopy re-polishing and masking, the entire model was primed using "Insigna White" Tamiya Spray, then coated with "Racing White". A full day masking session was then needed before airbrushing the orange patterns (a 50% mix of Testors International Orange and Humbrol red 132 was the perfect match with decals when still on their backing sheet, but appeared slightly darker when decals applied on the model, which is hardly noticeable on pictures).