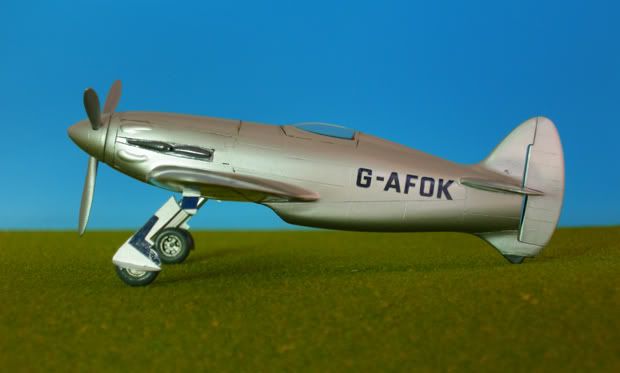 Although Mostly known as the Napier-Heston Racer, this highly streamlined aircraft was only designed for the absolute world speed record. The maiden flight occured on June 12, 1940 - a few weeks before the Battle of Britain. Sadly, it was also to be the last one when Squadron Leader G.L.G. Richmond (Heston Aircraft Test Pilot) realized as soon as airborne that pitch control had about no effect while the Napier Sabre engine began to overheat. After a short circuit, the flare was carried out too high and the aircraft stalled breaking off in two parts when slamming on the ground. There ended the Napier-Heston Type 5 story, despite another aircraft near completion at the factory...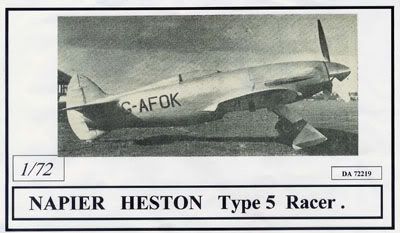 The Dujin Resin kit comes the classic way inside a plastic bag, including resin parts, two vac canopies, brass strut, information sheet, and a decal sheet which is a new feature on recent kits.
As reference material I used "Le Fana de l'Aviation" # 54 and the "Air Britain Archive" of Summer 2006. The information sheet also mentions Air Pictorial, Nov. 1972 ; Flug Revue, Nov. 1979 ; and Aeroplane Monthly, June & August 1976.
After thorough cleaning of main parts and dry fitting I began construction by assembling fuselage halves before working on the cockpit interior, as a large opening at the bottom fuselage allowed to insert the required parts symetrically. Then I closed the cockpit area within sealed bulkheads to prevent as much as possible dust and particle penetrating this area while working around.
The good news was that the one piece wing wasn't presenting any warpage, but the bad news was that the upper wing roots left a significant gap, to which I remedied using milliput. The reminder of this main construction was the classic job of dry fitting, cleaning, puttying and sanding, with some bubbles to deal with. I set the vac canopy as soon as I could. It appeared a bit flat to me but I elected using it anyway.
The flaps and landing gear doors were replaced by scratchbuilt items from styrene sheet, and the resin landing gear legs, too weak to sustain the resin model, were reproduced using aluminium tube and brass wire, but I didn't try to be too realistic on that. I also replaced the prop blades by items from the spares box.
The model received a coat of Tamiya TS-30 "Silver Leaf". About decals, and after a bit of research, it became obvious to me that the registration markings were dark blue, not black as the decals provided with the kit, so I used Aeroclub letters for British registration, although the font is a bit different than those on the real aircraft.
After the decal session the entire model except spinner was handbrushed three coats of Future floor polish. Then I hand brushed the exhaust pipes and tail skid with a Humbrol buffing metalizer (steel) and weathered some panel lines and flight control hinge lines.