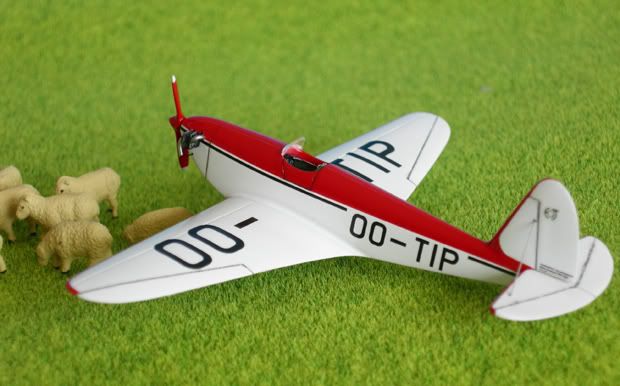 The history of Belgian aircraft production began with Ernest O. Tips in 1908 with a gnome powered biplane. In 1935 when he had become manager of the Belgian subsidiary of Fairey Aviation, he designed the Tipsy S (Sport) which was later modified with more powerful engines, becoming the Tipsy S.2. Aircraft OO-TIP is the original Tipsy S converted to S.2 standard. It is on display at the Royal Army Museum of Brussels.
The Dujin resin kit contains a limited amount of parts as one may expect for a tiny subject not much bigger than a 1/144 P-47, however there was not much to be done with the landing gear, engine, and decals (although provided with the kit, they were poorly printed), so they were replaced by scratchbuilt items, and the one piece wings were reworked with milliput to correct warpage and obtain symetric thickness. Both engine cylinders come from a Matchbox Henschel Hs 126 and unpainted soldering wire was used to represent manifold or exhaust pipes. thin metal thread was painted black to represent the ignition wires.
The model was heavily primed and sanded to eliminate pinholes as much as possible, then re-engraved. After a matt white coat from a Tamiya rattle can and a tedious masking session, Humbrol 19 enamel red was airbrushed on. The registration decals come from a Tally-Ho German lettering sheet, and some black stripes were added. With some stencilling, I managed to represent the O.E. Tips logo on the tail using very small fragments from the spares box, and I'm rather happy with the result (although slightly oversized).
The propeller left a lot to be desired but unfortunately I had nothing that size in the spares box as a replacement, so I tried my best with what I had. I was unable to identify the type of propeller manufacturer so the prop logos are pure fantasy... The model recived three handbrushed coats of Future before adding the last detail bits from scratch.