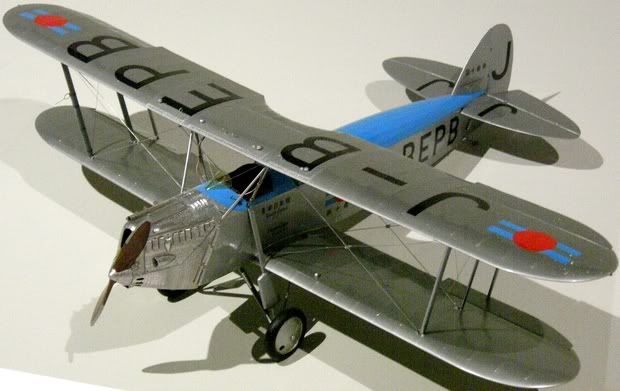 1/25 Ishikawajima R-3 (trainer - 1930)
Fortunately the Japanese Aviation world is not only made of green things with hinomarus on them and silly names given by another nation as may be suggested during most modeling events. A good way to take this into account was to attend the temporary exhibition which was held 26 Oct 2010 - 6 Feb 2011 at the Ueno Park's Museum of Science and Nature - Tokyo, in order to commemorate one century of Japanese aviation, where an interesting collection of superb models (mostly 1/25 scale or larger) covering all periods could be seen along with many documents and artifacts.
My thanks to Shinichi Miwa for his help to identify some aircraft.
| | | |
| --- | --- | --- |
| C.Ninomiya 'Karasu' 1891 | C.Ninomiya 'Tamamushi' 1893 | Kaishiki No.1 1911 |
| Narahara Type 4 'Otori' 1912 | Blackburn Type D 1912 | Narahara Type 4 'Otori' 1912 |
| Ito Emi Type 1 1915 | Kawasaki Type B-1 Otsu Shiki | Yokosuka Navy Type 13 Trainer |
| Ishikawajima R-3 | Nakajima A1N2 | Breguet 19 A2-kai Hatsukaze |
| Hiro H1H3 Navy Type 15 Model 2 | Gnome & Rhone Monosoupape | Felixtowe F.5 |
| Seidel ST 770 | Kawanishi K-6 Harukaze | Mitsubishi Karigane Type 1 |
| Gasuden Koken-Ki | Gasuden Koken-Ki | Mitsubishi L3M1 Nippon Go |
| Kawanishi H8K2 Nishiki Taitei | Kawanishi H6K2-L | Tokushu Choban Shisaku Re-Go |
| Nakajima Ki-84 Hayate | Nakajima Ki-43-II Hayabusa | Nakajima Ki-44-I Shoki |
| Kugisho P1Y2 | Shin-Meiwa PS-1 | NAMC YS-11A-213 |
| Fuji T-1B Hatsutaka | Kawasaki KH-4 | NAMC YS-11A-207 |
| NAL Asuka | Shin Meiwa US-2 | Kawasaki XP-1 |
| Mitsubishi MRJ | JAXA S3TD | Mitsubishi MRJ |