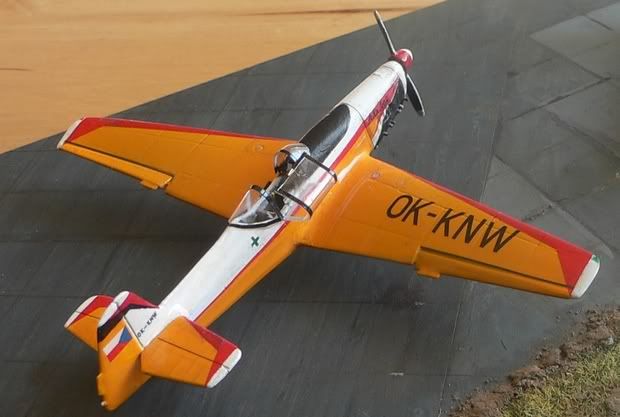 Now I'd like to introduce my new model, an aerobatic special derived from the classical Zlin Trainer, (Trenér).
It was my dream from childhood, to make a Z-226 Akrobat special. When I was ten years old, I was a great fan of CzS aerobatic team, I followed their placing etc., etc. The names of our top airbatic pilots, such as Ladislav Bezák, Jiří Bláha, Juraj Šouc, Laco Trebatický, and many, many others, sounded to me more loud, than our football stars to my friends! I also used to have a balsa, flat fuselage, rubber powered Akrobat model those days.
And nowadays, it is sometimes possible to get a 1/72 model. Super! BUT, as it is no Spit, no F-16, nor a Heinkel, very few producers and sellers care about this type. There are some companies making Zlin Trenér, but you can seldom buy it in a current modelshop.
Long ago, this uncompleted resin model was given to me. It seems like a copy of Aeroteam¨s plastic kit from early Nineties. As I intended to built the Z-226 Akrobat Special version, I filled the front cockpit with balsa, picked a suitable prop in my scrapbox, my friend Ivo made the clear canopy. As u/clegs the lentile shaped plastic rod by Aeroclub was used, as well as the 1/87 car wheels. Now it´s ready, hooray!
OK-KNW was adapted from an ordinary two seater, probably Z-226 Bohatýr,(a special glider tug with no controls in the front). It took part in the World Championship in Bilbao 1964, flown by Mrs. Eva Kaprasová and in Moscow 1966, MUDr Jiří Stoklasa. It was rebuilt back to the two seater again in early Seventies. Where is it now, I don´t know.
Happy modelling!
Jiří/George